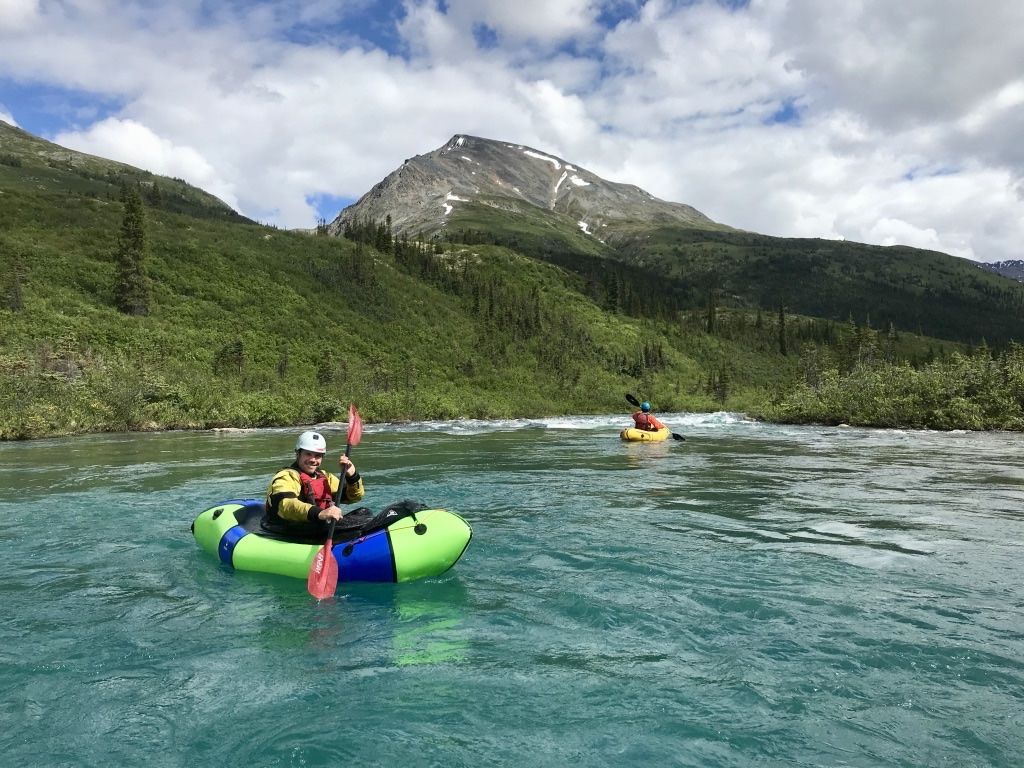 Packraft 102 - Whitewater Skills
Price: $350 + gst
Dates: May 27+28; June 3+4 | June 10+11; June 17+18 | June 24+25 | July 115+16; July 22+23 | email for custom dates/groups
Packrafting in the latest newest craze in Paddlesports. Packrafts are lightweight, highly manoeuvrable, fun and forgiving personal watercraft.  Yukan Canoe Packraft 102 teaches you  whitewater skills you will need for River or Creek Paddling.  We utilize curriculum developed by the American Packrafting Association and focus on learning technique.  We provide a safe, supportive yet challenging environment for you to learn & practice.   Packraft 102 builds on Packraft 101
2 full river days
We use a combination of Takhini, Watson & Wheaton Rivers
9am – 6pm each day
Our fleet comprises of Alpacka and Kokopelli self bailing packrafts complete with Thigh straps and deck bags.
All equipment including drysuits is provided.  (Running shoes are required)
Packraft 101 is a prerequiste course for Packraft 102. We have split the course for flexibility.
Course Curriculum
Packraft 102 builds on Packraft 101 which is a prerequisite for this course
Outfitting

for River Running/Whitewater and safety considerations
Personal Equipment– Drysuits, layers, footwear, helmet, pfds, throw bag

River Hydrology

– currents, what makes a rapid, eddy lines, holes, wave trains

River Hazards

– Sweepers, trees, rocks, Cold water, hydraulics
River Maneuvers– Front/back ferries, eddy turns, eddy exits, using currents to your advantage

Playboating

-Surfing, catching Micro eddies, boofs, wave trains

Rapid-

running Strategies
Safety- Swimming, self rescues, re entry while in current, group rescues,

Repair-

emergency field repairs of packrafts and gear

Wilderness tripping

, judgement and next steps
Low Student Instructor Ration. 5:1 Max
We build skills not thrills by challenging you with harder maneuvers on easier water with lower consequences. Our goal is to provide you with an optimal learning environment to keep your learning high by finding the right level of challenge for each student.  Our courses spend more time paddling than other courses.
Course will be taught on a combination of or entirely on Takhini, Wheaton or Watson Rivers based on Water Levels and conditions at the time of the course. Quality learning and Safety are our focus.