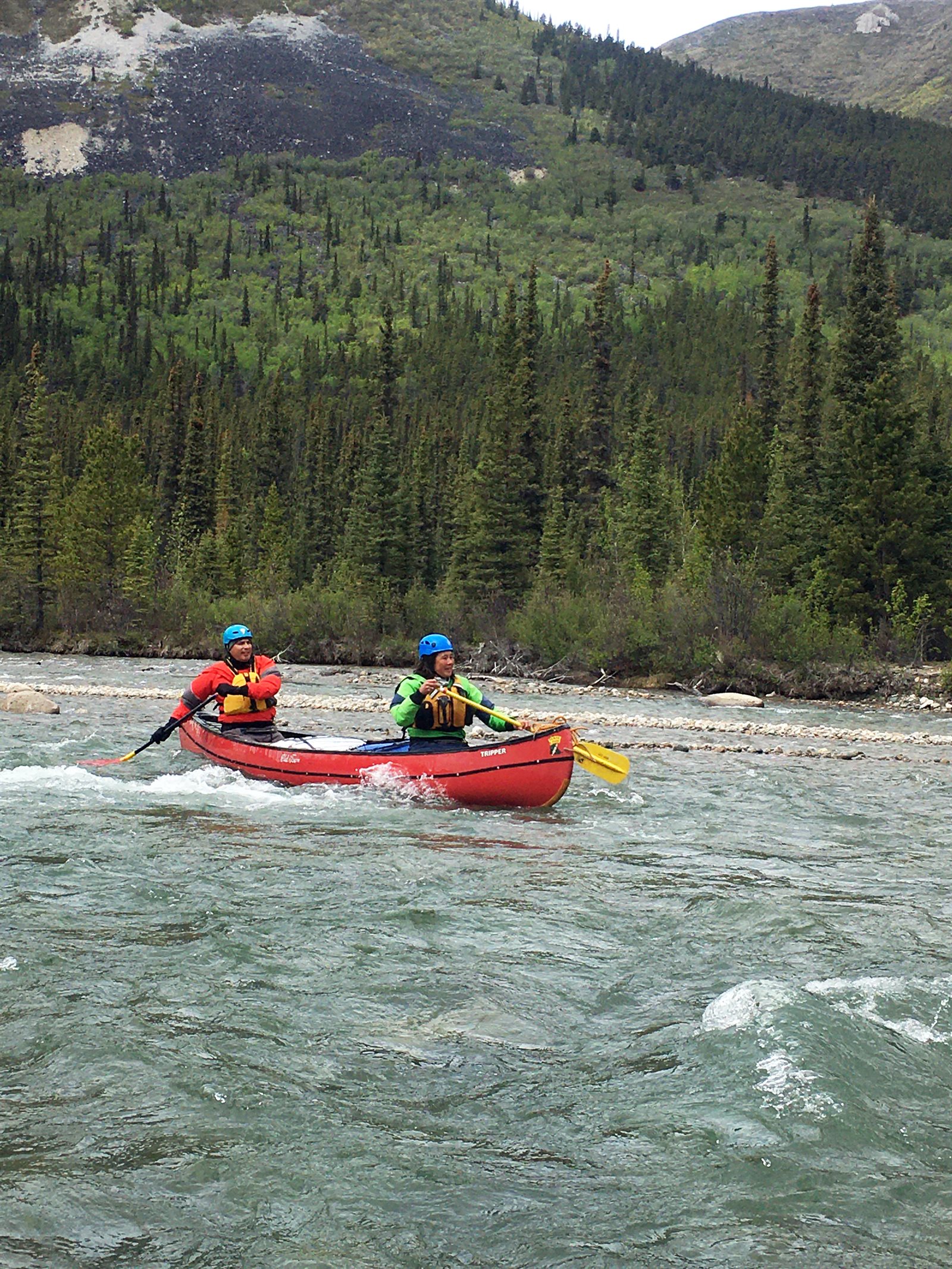 Intro to Moving Water
Price: $249 +GST
Dates: May 6,8,9; May 13,15,16; May 27,29,30 | May 21,22,23;
May 28,29,30 | June 10,12,13; June 17,19,20 | June 4,5,6; June 11,12,13; June 18,19,20; June 25,26,27 | July 9,10,11; July 16,17,18
Our flagship canoe course. Students will be introduced to moving water fundamentals that are building blocks  for all future paddling you will do.  This is the place to start if you have never taken a canoe course, even if you have paddled all your life. We make sure everyone leaves with new skills. The course is more than just an "Intro" course.   We provide a safe, supportive and fun environment for you to learn in.  This course is a Moving Water course and not a Whitewater Course. Perfect for those wanting to paddle on the Yukon or Teslin rivers and those wanting to move into Whitewater paddling.
Course is taught over 1 evening and 2 Full days.
Skills Covered
Canoe Equipment- canoes, paddles, life jackets, clothing, safety items
Transporting-  Lifting, carrying, moving your canoe on land and vehicle
Paddle Strokes- forward, reverse, draw, pry, bracing, j -stroke, sweeps
Maneuvers: launching, landing, straight line, turning, pivots
Front ferries- moving across the currrent
Eddy turns- using back eddies to stop in, how to safely use eddies to your advantage
Canoe safety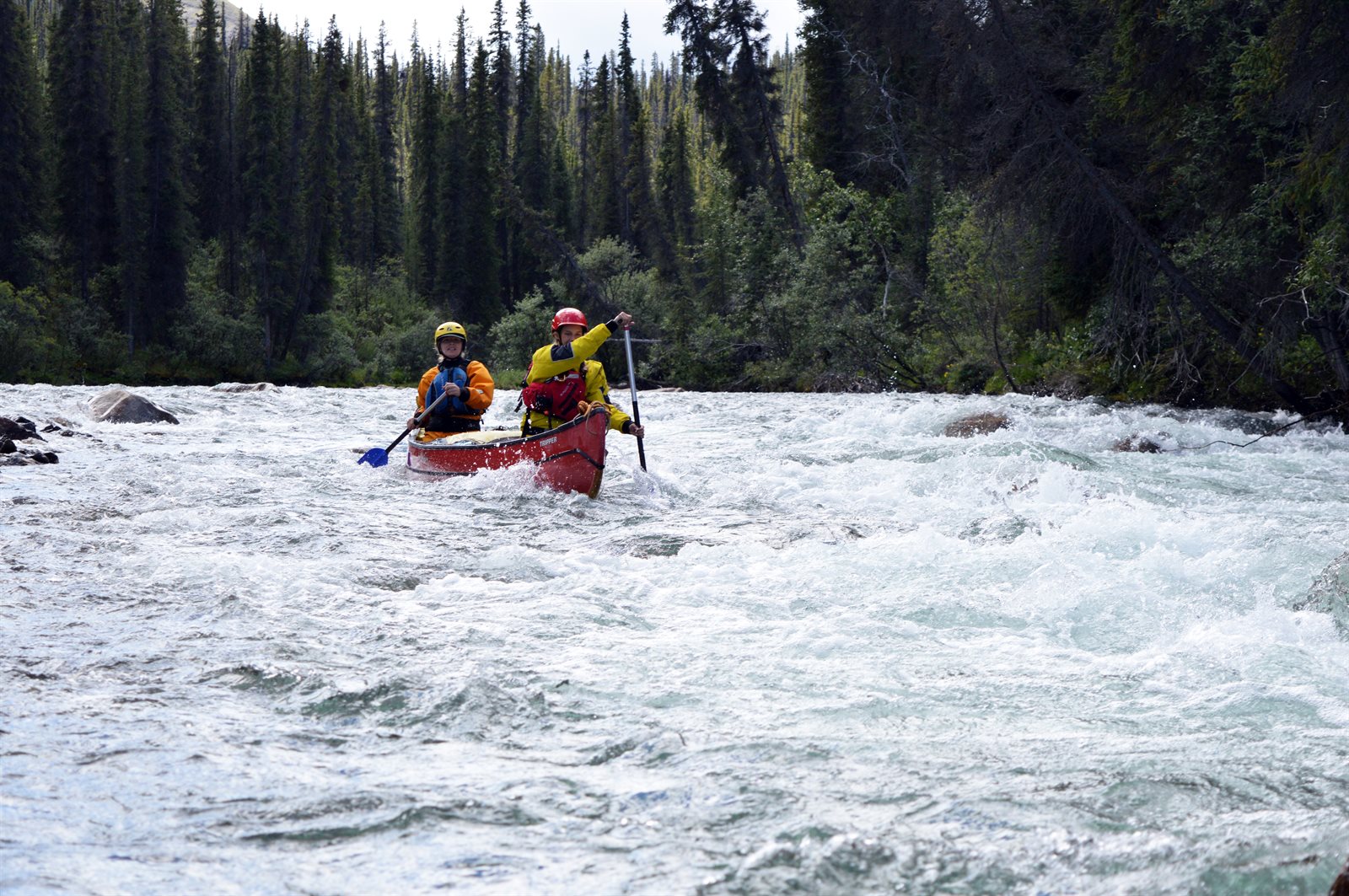 Whitewater Fundamentals-Level 2
Price: $299 + GST
Dates: May 27, 29, 30 | June 4, 5, 6 | June 10, 12, 13 | June 18, 19, 20 | June 24, 26, 27
Are you wanting to join the exciting world of whitewater canoeing?  If so this is the course for you. We review the fundamentals from Intro to Moving Water and build on them. You will gain control and confidence in your canoeing skills and prepare yourself for your summer canoe journey. If you have never taken a formal  Moving water canoe course before we highly recommend you start with our "Intro to Moving Water" course.
Skills Covered
Outfitting your canoe for Whitewater
Working & communicating with your paddle partner
Safety- understanding moving water, hazards, swimming, throw bags,
Front Ferries, Eddy Turns, S-turns
Surfing
Back Ferries
Lapie River Extravaganza Yukon's Premier Whitewater Canoe Course
Price: $499 +GST
Dates: June 26-29 | July 1-4 | July 8-11
Your skills and confidence will soar. Catch every eddy and surf every wave. The Lapie River is the best river in the Yukon for learning whitewater. We have many options of runs choose on the Lapie, Ross and Ketza Rivers as well as local lakes. Each course is tailored to the class to insure optimal learning. We have been using this location for more 20 years and know it very well. We have many repeat customers for this course and it's more of an experience than a course.
Course runs over 4 full days based out of the Ross River area. We provide all canoe equipment, local transport, video analysis and instruction. Not included: camping fees, food or transportation to the Lapie.
Ideal course for preparing for a Peel Watershed Trip or other Canoe expedition.
Intro to Whitewater Solo Playboating
Price: $299 + GST
Dates: May 17,18,20,24; June 15,16,18,21
Are you ready to start the exciting word of Solo Whitewater Canoeing? This course is taught in fully outfitted solo whitewater canoes designed for turning and playing in whitewater. You will learn how to carve with your canoe using the 2 x 4 method. Eddy turns, front ferries, surfing, playing, equipment, paddle strokes and safety are all covered. All equipment including outfitted solo canoe included.
Course runs 3 evenings  6-9:30pm  Whitehorse area & full day on Takhini River 9am to 5pm
Intermediate Solo PlayBoating
Price: $299 + GST
Dates: June 17,19,20
Have you spent some time in a Solo Playboat? Do you want to up your solo game? Join us for 2.5 days of building your solo skills and confidence.  We build on Fundamentals skills learned in Intro to Solo Playboat.   Evening session spent on Flatwater tuning technique and practicing carving.
Saturday + Sunday 9 am to 6pm location will be based on current water levels and where class will have optimal learning. We will use a combination of Takhini, Watson and Wheaton Rivers
Intermediate/Advanced Whitewater Solo Playboating
Price: $499 + GST
Dates: July 8, 9, 10, 11 Lapie River | Custom Dates Available
Are you wanting to push your  Solo Whitewater Canoeing skills?  This course is taught in fully outfitted solo whitewater canoes designed for turning and playing in whitewater. Your solo skill and confidence will grow.  Taught will be on Yukon's premier Canoe Instructing River – the Lapie River.  We base camp for 4 days and run various sections of the Lapie, Ketza and Ross Rivers.  We provide learning challenges appropriate for your skill level. Practicing hard moves on easier water prepares you for making your moves on more challenging whitewater.
Group may be a mix of intermediate/advanced paddlers that we offer individual challenge for each student.
We utilize video analysis of your paddling  and review video in the comfort of our  portable classroom.
Intro to Moving Water Solo Tripping
Price: $299 + GST
Dates: May 20,23,24 | June 17,20,21
This course is designed to provide you will the skills to solo a regular tandem canoe on moving water such as the Yukon, Teslin or Takhini Rivers. Perfect for those that want to paddle  solo on an extended paddle trip. We will cover front ferries, eddy turns, landing your canoe, reading the river, equipment, paddle strokes, safety and much more. You will learn how your canoe responds to you and how you are in control.
Course runs Thursday evening and all day Saturday and Sunday. Locations will be determined based on current water levels and participants.  We use a combination of the following rivers: Yukon, Takhini, Watson or Wheaton Rivers.