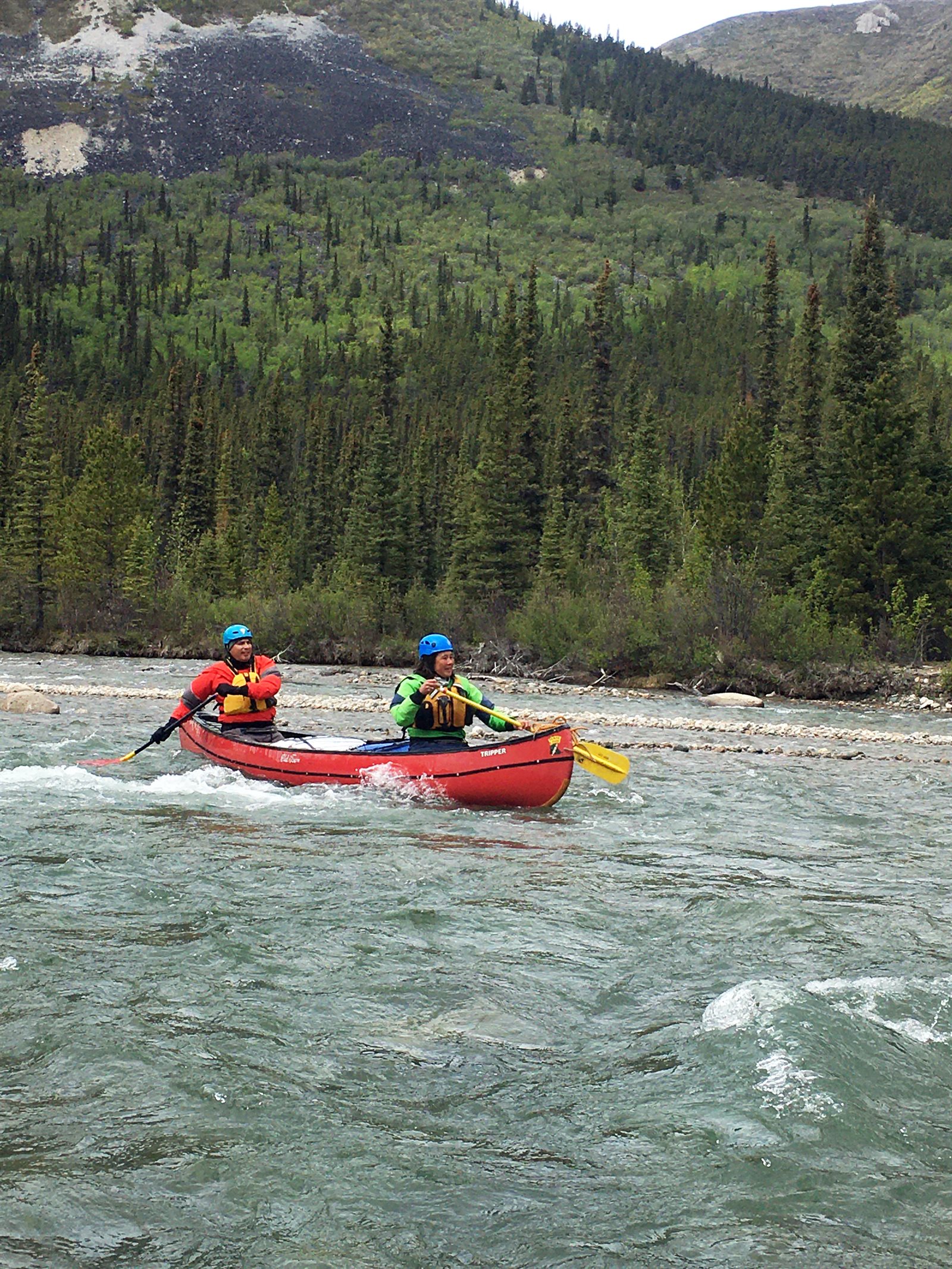 Intro to Moving Water
Price: $299 +GST
Dates: May 4,6,7; May 12,13,14; May 18,20,21 | May 25,27,28; May 26,27,28; June 1,3,4 | June 2,3,4; June 8,10,11; June16,17,18 | June 16,18,19; July 14,15,16 July 21,22,23 | French Speaking, Women Only- May 26,27,28
Our flagship canoe course. Students will be introduced to moving water fundamentals that are building blocks  for all future paddling you will do.  This is the place to start if you have never taken a canoe course, even if you have paddled all your life. We make sure everyone leaves with new skills. The course is more than just an "Intro" course.   We provide a safe, supportive and fun environment for you to learn in.  This course is a Moving Water course and not a Whitewater Course. Perfect for those wanting to paddle on the Yukon or Teslin rivers and those wanting to move into Whitewater paddling.
Course is taught over 1 evening and 2 Full days.
Skills Covered
Canoe Equipment- canoes, paddles, life jackets, clothing, safety items
Transporting-  Lifting, carrying, moving your canoe on land and vehicle
Paddle Strokes- forward, reverse, draw, pry, bracing, j -stroke, sweeps
Maneuvers: launching, landing, straight line, turning, pivots
Front ferries- moving across the currrent
Eddy turns- using back eddies to stop in, how to safely use eddies to your advantage
Canoe safety
NO PARTNER is needed to Register for a Course.
Courses start on either Thursday or Friday evening on Flatwater 6:30-10pm. Most of the time we use Ear Lake. (pick course date that fits)
Saturday is split between Schwatka Lake and the Yukon River in Whitehorse. 9am to 4 pm
Sunday on the Takhini River putting in at Takhini River Campround on Kusawa Lake Road. 9 am to 6pm
We focus on teaching you  good technique so you can maximize your enjoyment on the water and leave the course confident in your tools in your paddlers toolbox.
All equipment is provided with the exception of footwear. We provide Wetsuit as part of the course. BUT we highly recommend renting a drysuit. Drysuits keep you warm & dry. 

Please see our Course FAQ's to understand the difference between drysuits & wetsuits. 

Foot wear- Old runners  that you don't mind getting wet are ideal.

No Crocs, sandals, or open footwear are permitted.

Your footwear will get wet. 
1:7 Instructor Student Ratio
 Custom dates and groups are available. Please contract us.