Yukan Canoe Instructors
We are passionate paddlers who enjoy sharing our passion with our students. We aim to provide you a safe, supportive and engaging environment so optimal learning happens.  We want you to leave the course with new confidence in your skills so you are ready for your own paddling adventure.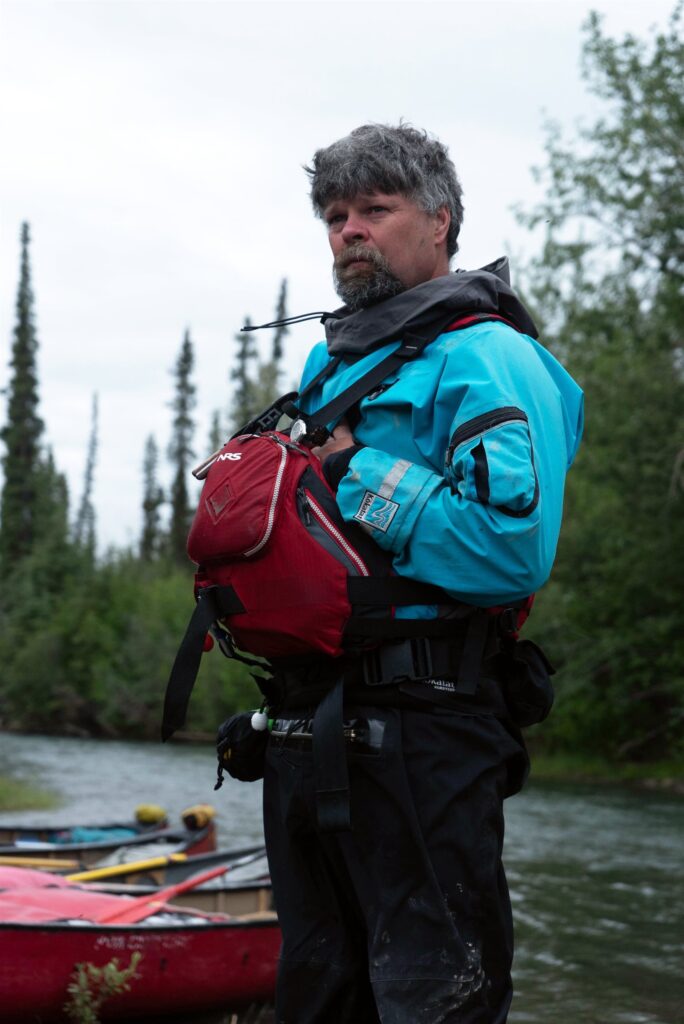 Trevor Braun
Owner, Head Instructor
Trevor arrived in the Yukon at age 10 and has always had a connection to water. He has paddled extensively throughout the Yukon logging more than 40,000 km of wilderness journeys either on guided or personal trips.
Trevor holds the following certifications from Paddle Canada and American Canoe Association Including – Lakewater Instructor Trainer, Advanced Moving Water Instructor Trainer, Canoe Tripping Level 2 Instructor. Swift Water Rescue Instructor, Wilderness First Responder Training.
Trevor thrives on helping others to connect with the water, feeling safe and confident. He has a laid back style and is very adaptable to your learning style and level. My calling in life is sharing my passion of paddling with others.
Trevor grew up in Faro, Yukon and could have been born in a boat. He got hooked on canoes at a young age and been addicted ever since. In high school a teacher introduced him to the Lapie River and he has become the expert on the Lapie.
Trevor has paddled in many areas of the world including: Yukon, BC,Alberta, Ontario, Alaska, Tennessee, North Carolina, Mexico, Costa Rica, Argentina, Chile, Zimbabwe, Zambia, Malawi, Botswana and very keen to add more destinations to the list.
He has 2 children Pelly and Nora who also share his love of paddling and the outdoors and you may find them assisting or teaching on a course. His wife Jane Wightman is integral part of Yukan Canoe.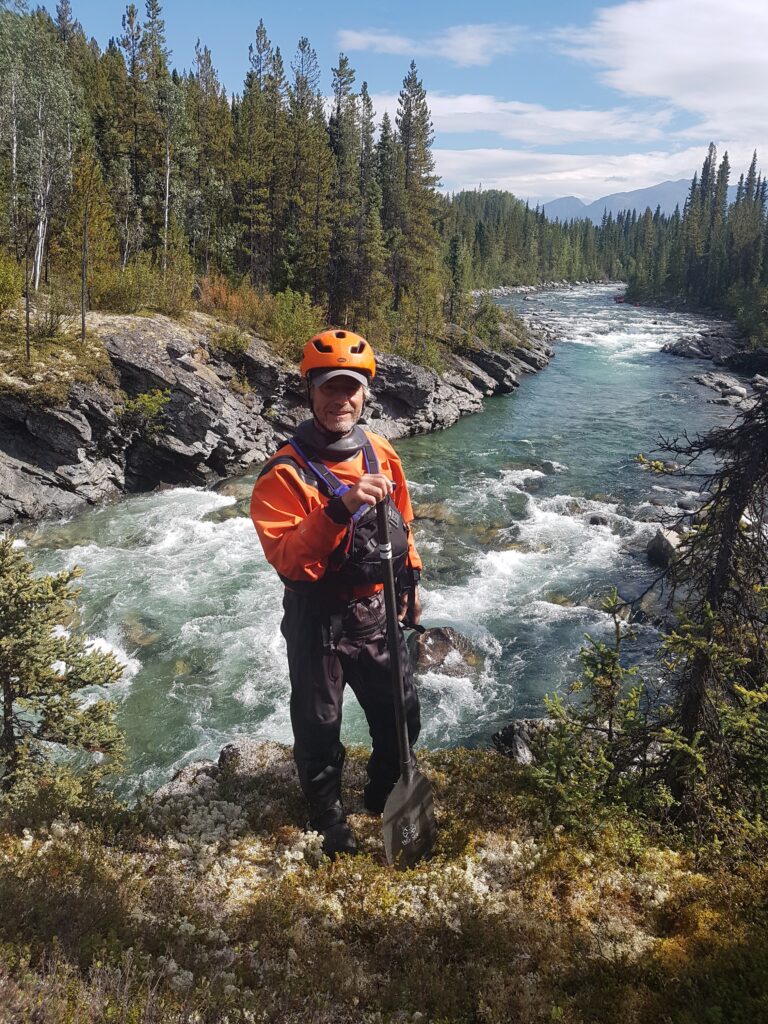 Richard Malvasio
Richard (Reechard) has been part of the Yukan Canoe team since the beginning in 1999. He is a passionate paddler & instructor. He has been an integral part of the success of Yukan Canoe and has shared his passion for paddling with hundreds of students.
I've always thought canoeing was a very neat way to travel. After my first canoeing experience at summer camp in Quebec at the age of 19, I became  involved in canoe tripping and whitewater canoeing. Since then I have not really stopped sharing this beautiful activity. I had the opportunity to be part of  various organizations such as Laval University Outdoor Club, Outward Bound in Northern Ontario. I taught and guided for University of Calgary outdoor club. During my years in Calgary I raced Slalom C1 & C2 on the Kananaskis river. I first certified as a moving water course conductor in 1986.
In 1991, I moved to the Yukon and realized that Yukoner's wanted a good canoe school so I started an outdoor Company called Otter Wilderness School based mainly on Canoeing with the motto 'Playing in the Wild'. This is when I had the chance to meet Trevor Braun now operating Yukan Canoe since 1997 . He showed me the area and I learned about many of our great rivers. Personally and for various companies I have guided river trips such as the the Wind, the Bonnet Plume, the Snake, the Mountain and a few more.
I enjoy sharing my love of canoeing through teaching to anyone interested. Looking forward to meeting you.
Sarah Murray
Sarah is a long time Yukan Canoe Instructor, a passionate paddler that you will regularly find on many of Yukon's River wearing her trademark "on the water grin".
Sarah grew in Whitehorse, Yukon where family vacations were spent on a dog sled or in a canoe. She enjoys the  exhilarating challenge of paddling whitewater and travelling to some of Yukon's most beautiful landscapes via the vast network of Rivers.
Sarah enjoys teaching paddling because she loves to see her students realize that they can get where they want, when they want in a canoe. Her  goal to help people feel confident on the water.
Sarah is a Certified  Paddle Canada Intermediate Moving Water Canoe Instructor, Swift Water Rescue technician, and Wilderness First Responder.
Sarah mostly paddles a solo canoe these days, her favourite solo canoe being the Esquif Spark.  She also enjoys paddling her  recently rehabilitated Kevlar Racing tripping canoe with her partner exploring Yukon's southern lakes. Sara is excited to  start packrafting  this summer  to join her passions of hiking and paddling in remote places.
As a Yukan Canoe instructor "I've had the privilege of spending many summer trips on the Lapie River. With beautiful scenery and clear water the Lapie is one of my favourite place to paddle, but it's hard to discount local Whitehorse runs on the Wheaton or Takhini and the remote trips I've taken to the beaches of Taku Arm and Teslin Lake."
Paddling is one of the most relaxing (or exhilarating, if you like it that way) ways to see the Yukon, and I love helping people get out there.
Nesha Wright
Paddling has been part of my world for different reasons at different times. I have been spending time on the water for as long as I can remember. For me, paddling is about more than just being on the water, it has molded who I am in ways that I didn't expect. I have been instructing at Yukan Canoe since 2012 and my favourite part is the look on client's faces when you say "Now it's your turn!". I instruct because of the people. It is that simple. Watching someone enter a course and be hesitant but keen and watching them leave stoked and determined is hard to beat!
My favourite craft to paddle is a tandem canoe (the 16ft Old Town Prospector or Dagger Caption) followed closely by the solo canoe, Black Fly Option. While many other boats are fun, nothing quite beats paddling with someone you paddle well with, or at least laugh a lot with when you don't! The Lapie river and the coast of Ucluelet are two of my favorite spots to paddle.
Certifications that I hold include Paddle Canada Instructor for canoe, SUP and sea kayak in addition to 90-hour wilderness first aid. At this point in my introduction, I am supposed to give a "quick tip", I could go on about paddle techniques but instead my advice is to laugh while floating next to your capsized vessel. Paddling is supposed to be fun, surround yourself with the people that do that for you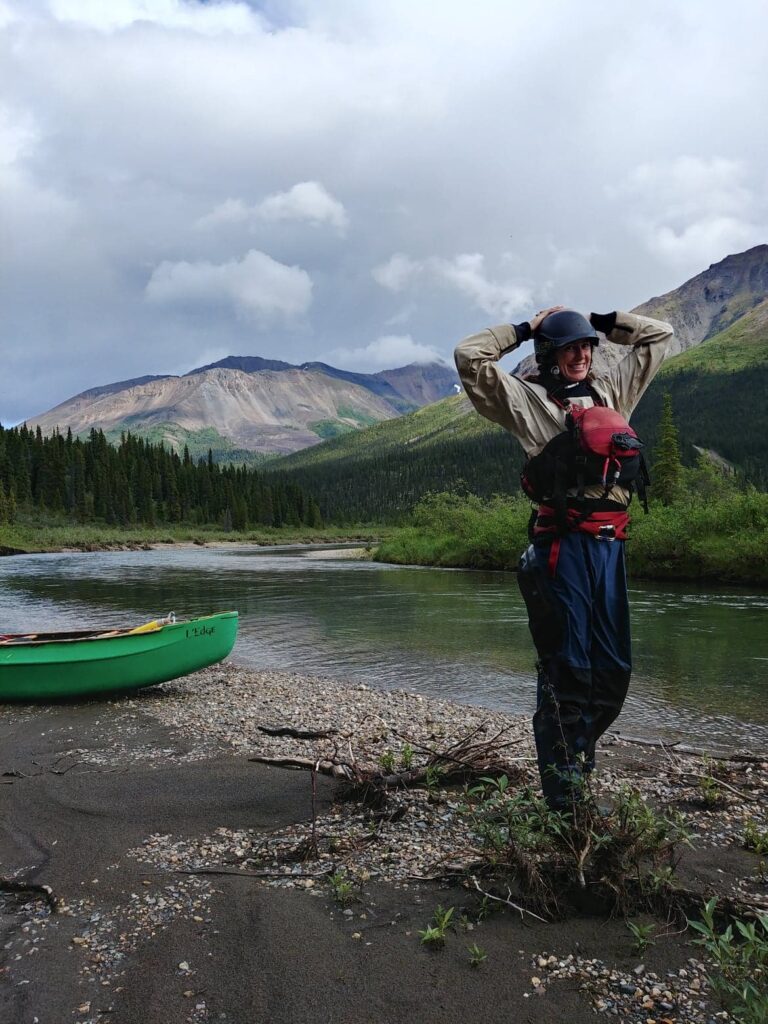 Lauren Wonfor
Lauren joined the Yukan Canoe team in 2020. Our students love  Laurens passion for paddling  and individual attention to ensure they succeed in learning new paddling skills.
When I was a kid growing up in the prairies, I used to drag an old beat up kayak every weekend to the lazy stretch of river that passed quietly by my house. I just had a craving to be on the water. It wasn't until I started teaching at an outdoor education-based school in the Ottawa Valley that I really fell in love with paddling. Some solo canoes were available for the staff to borrow on off time and, during my days on the Madawaska River, I fell hard for white water canoeing. That was 9 years ago and I've been chasing rivers every season since then. I've also spent that time teaching and guiding youth and adults in the outdoors. After a number of years with the National Outdoor Leadership School, teaching outdoor leadership and white water canoeing on rivers in Utah and the Yukon, I am now based full time in Whitehorse. While I enjoy kayaking and rafting, I feel real passion when solo canoeing and love spending summer evenings in my Zephyr on the Wheaton after work. There aren't many things better than the feeling of being in tune with my boat and the water.
Guiding and instructing has taken me to some spectacular bodies of water, one of my favourites being the Hess River which solidified my love for the Yukon. One of my favourite parts of instructing paddling is the moment when a new paddler suddenly "gets it" as they whip into an eddy for the first time and I can share in their contagious joy! It's so hard to explain to someone why catching eddies is awesome- you have to feel it yourself. I am keen to get out of the water and bring stoke to anyone interested in learning from scratch or improving on their previous paddling knowledge. The river is, of course, the best teacher but I look forward to being a part of the adventure! I am certified in Swiftwater Rescue, Wilderness First Aid, and Paddle Canada whitewater and flatwater canoeing instructor.
Natalie Sands
I grew up in the north, born and raised in Atlin, BC – a small, rural community a couple hours south of
Whitehorse, Yukon. Rivers have guided my life in a way I wouldn't have imagined. I learned how to white water kayak and raft guide on the Tatshenshini River, here in the Yukon. Raft guiding has taken me to rivers in India, New Zealand, BC, Utah and Idaho, but I most enjoy coming home to share these rivers with others. I have most recently returned home to Whitehorse, Yukon and am completing my BEd after a decade of guiding, instructing and working with young people. I have instructed whitewater kayaking and canoeing on class 1, 2, 3, and 4 rivers in the Yukon, Idaho and Utah. My goals on courses are to offer clear technical instruction, to motivate students with enthusiasm and support, and to create learning environments where students of all different backgrounds and river experience will have the opportunity to surprise themselves. I am passionate about northern rivers and am excited to continue teaching at home in the Yukon.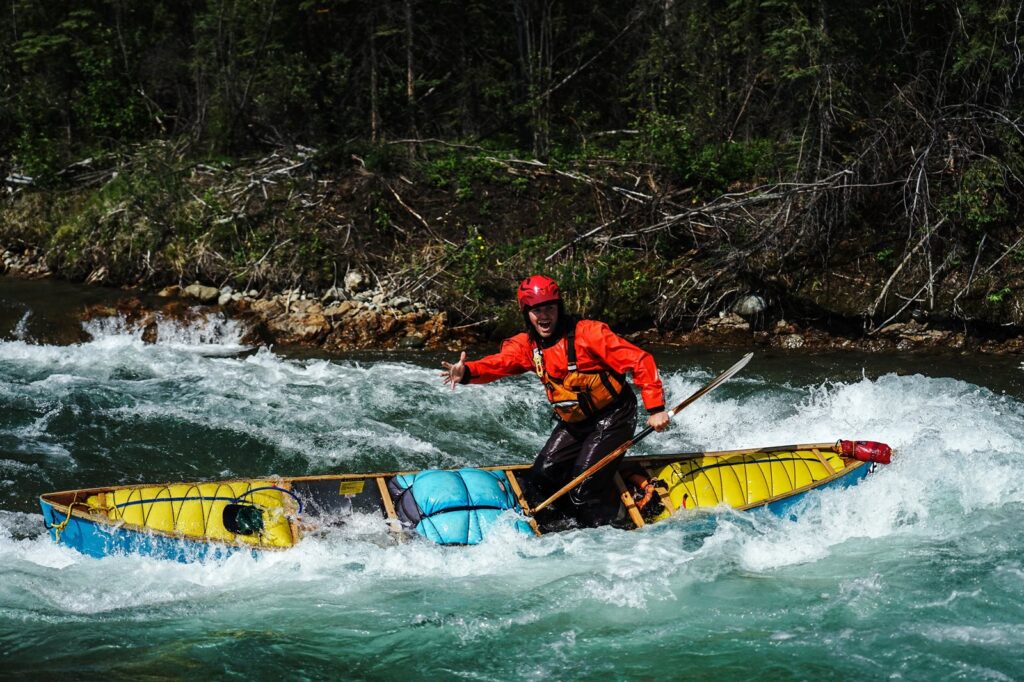 Pelly Vincent-Braun
Hey I'm Pelly and I've been a paddler for my entire life and have been an instructor at Yukan Canoe for
almost a decade. I was introduced to canoeing by my parents as a baby I haven't stopped since! I'm a canoeist at heart but I can also paddle river kayaks, pack rafts, and sea kayaks – my current favorite boat is a Millbrook 2020. I was born and raised in the Yukon and have done some of my favourite paddling here, the Lapie River is my personal favourite. I love paddling because it can be so many different things: relaxing, exciting, and more.
Pelly was a member of Canada's Junior Slalom Kayak team paddling in C-1. He attended 2 Junior World Championship and was several time Canadian Junior C-2 National Champion. He is named after the Pelly River – a major Yukon river. Pelly's day job is  Welder/fabricator who enjoys creating.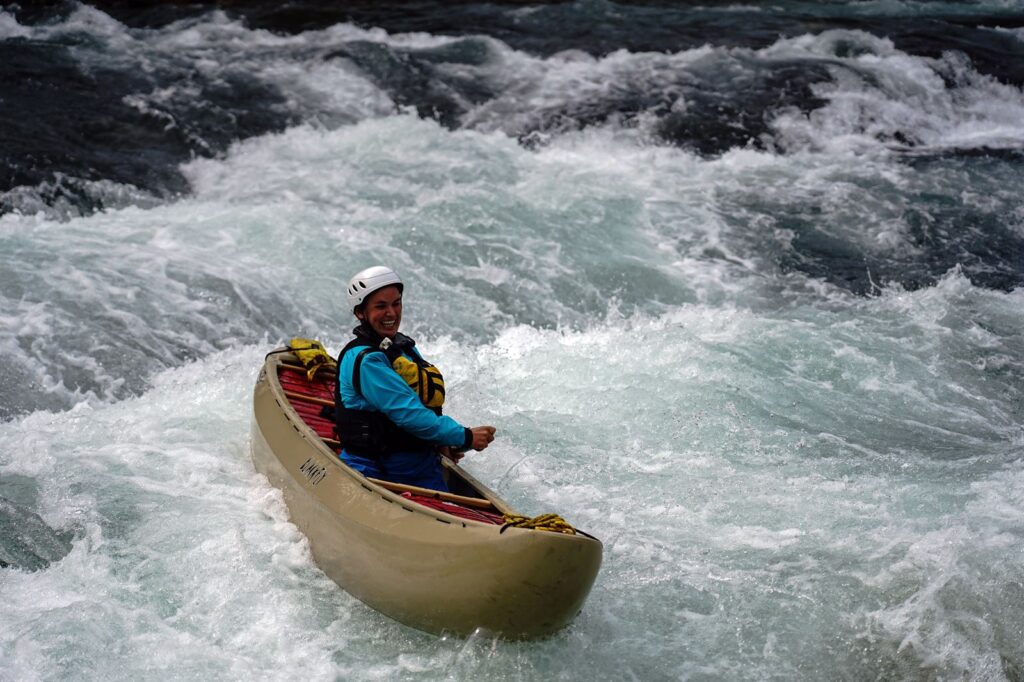 Aislinn McManus
My name is Aislinn, I grew up in Whitehorse, YT and was introduced to paddling through trips on the Yukon river with my parents and school trips throughout the territory. The past few summers I have been fortunate to be able to come back to the Yukon every summer and spend time learning and teaching others how to enjoy the many amazing rivers Yukon has to offer. Teaching and guiding with Yukan Canoe has allowed me to improve my paddling skills, learn how to solo canoe, spend more time in the outdoors, and help many others do the same in a safe and fun environment!
When I'm not paddling or skiing you can find me working as a Certified Strength and Conditioning Specialist or studying to complete my degree in Athletic Therapy. I have experience training and treating active individuals from various sports and am currently designing programs for whitewater paddlers and backcountry skiers. Looking forward to meeting you in an eddy on one of my favorite rivers, whether that be the Lapie, the Takhini (Nàkhū Chù), or the Rouge.
Maeve McManus
Was born and raised in Whitehorse, Yukon where she started whitewater canoeing with her  dad and older sister Aislinn at a  young age. From 2016 to 2018,she competed in sprint canoeing and attended the Sprint Canoe and Kayak National Championships in 2018. Most of her instructing  experience comes from working with kids through Flatwater North summer camps and sprint paddling coaching from 2018 to 2020.
Maeve has worked  with Yukan Canoe over the last couple of years, slowly gathering experience teaching whitewater paddling. " I love instructing paddling as it is a fun rewarding skill that is extremely valuable in a place like the Yukon. Paddling is important to me as it has always been something I have always done with my family and friends."
Julia McGoey
Julia grew up and learned to paddle in Ontario. She attended Algonquin College for Outdoor Adventure where she first fell in love with whitewater. Julia has worked in the outdoor industry for the past ten years for employers including The Outdoor Education Group, Outward Bound, NOLS and Yukan Canoe. Julia has taught white water canoeing and rafting in Australia, New Zealand, the United States and Canada. When Julia is not on the river she enjoys skiing , reading and working on her tiny home.
Bryan Unruh
Bryan Unruh has a Bachelors's Degree in Ecotourism and Outdoor Leadership from the University of Mount Royal and a Master's in Outdoor Education from the University of Edinburgh. Together with extensive industry experience, he is a well-versed adventurer. He has been paddling for over 20 years, as it has allowed him to be in beautiful and challenging landscapes at the same time. I started paddling when I was a teenager in cadets and made a few organized river trips. I like to instruct paddling as it provides the opportunity to give people skills that can allow them to travel in remote environments independently as they hone their skills. I paddle various boats, whether it's a raft, packraft, solo or tandem canoes. My favourite river to paddle is the Colorado River, as it is one of the best river trips on the planet. I am a certified paddle Canada Ocean, flatwater, moving water and canoe tripping instructor. I have also instructed Swift water rescue. Paddling rivers is one of my favourite ways to enjoy good food, good community and challenging myself to make decisions on the spot.